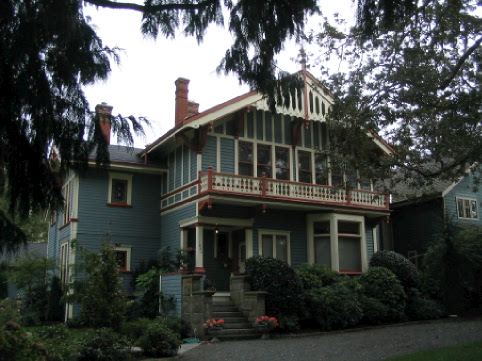 and the median family income (sorry, couldn't resist).
When I was teenager (17) and moving out the summer after high school graduation, the search for my first apartment was an eye-opener. I had these dreams of finding a great place I could call my own (and use to impress the ladies) but no idea of the cost. Back then, I did what every other house hunter did and scoured the newspaper (the internet was not yet even local back then) and check out the offerings.
I must have toured a dozen places before settling on my first bachelor pad. Most of the places I looked at were shared accomodations for around $350 a month. I got my first basement, wood panelling and all, two-room bachelor suite for $425 inclusive (and not something I'd even invite the ladies into for that matter). The only bill I paid was my phone. It was on Shelbourne, a few blocks from Mt. Doug and not too far from where I live now. Fifteen years later, I have a one-year old suite, about three times the size of my first place, I pay $750 per month and my bills run just under a hundred, let's call it $850 even. Neither of these places qualify as the perfect apartment, but I'm not ashamed of where I live at all.
Tonight I had a visit with some friends who just moved into a Fairfield character suite. I don't know how much they pay, and really it's irrelevant. I know they don't own it and they don't care to. And I also know they searched for several months looking for their perfect apartment. It was like being in an episode of
Friends
and we lived in New York listening to the way they were talking. It's a fantastic place: big, bright, airy, quiet. I can't say anything negative about the place. Nor would I want to; I'm genuinely thrilled for them.
But it got me thinking: "Can you buy the perfect apartment?"
I don't think you can in Victoria. Sure there are lots of nice places in town. You can even pick up some condo conversions in old Maclure Mansions in the Rockland area. You can buy a great new flat in Shoal Point or at Bayview if you're a downsizing ex-executive boomer (though I question how great anything made in this boom will turn out to be). You can head out to the Metchosin sand pit and buy a McMansion that looks oh so similar to its neighbour not ten feet to the right, and left for that matter, if you're a non-ex-executive boomer. You can buy property out on Land's End Road, then tear it down and build the home of your dreams--if you win the lottery first, and even then, not likely at today's prices and today's jackpots.
The real estate myth that is "The Perfect Apartment" is a renter's dream; I wonder how long until we start hearing our friends talking about that regularly, instead of the condo they just bought in Sooke that they will trade in for the Gordon Head home next year? For me, it started tonight. Sign of the times I guess.