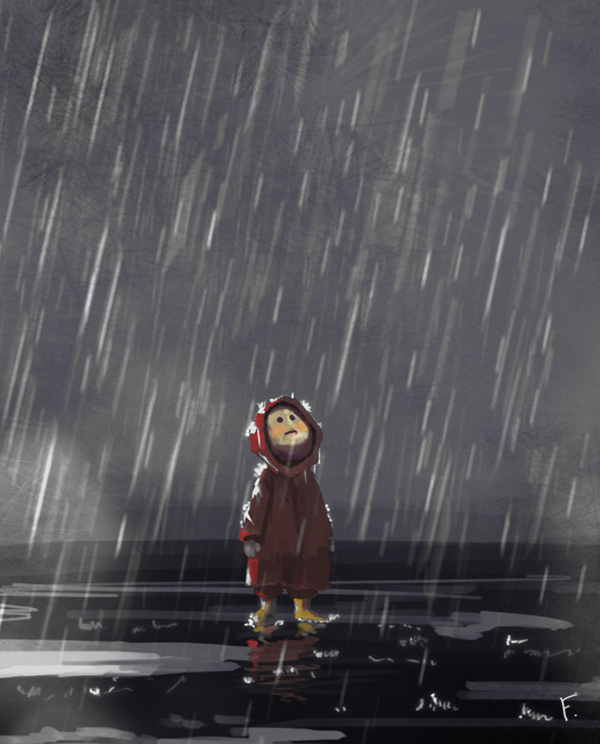 I have to admit that four straight days of TSX increases has got me in a bit of an ignorant stupor. Beginning last Friday, when the US Fed dropped its short term interest rate by 5o points (0.5%), the markets have undergone a bit of stabilizing and a subsequent rally that has the TSX recovering 50% of its recent drop.
The Canadian Press-Decima survey found that 55 per cent of respondents didn't think the market troubles herald a recession, compared with 22 per cent who were pessimistic. It also found that 66 per cent of respondents reported being unaffected by the financial tumult.

Another four per cent said they'd lost a lot of money, 17 per cent reported losing some money, and five per cent said they'd made money.

Almost half of the people surveyed said they felt the worst was over and the market will rise again soon, while 28 per cent said markets will continue to fall in the next few months.
I don't wish financial hardship on anyone. I think that savvy investors, both RE and equities, can avoid losing money in most market cycles by paying attention, getting good advice, and trusting their instincts. That said, from watching the markets with more care and attention, mostly due to this blog, for the past 8 months I'm surprised that more people aren't concerned about both over-inflated markets.
I consider myself fairly risk friendly. I like to play poker and I don't mind losing. I've found that by learning and paying better attention, I lose far less often. I have a similar outlook on the equities market: I'll take a chance with a percentage of my portfolio, rarely exceeding 20% speculation. The rest of my investments I consider value. That means I look for good deals. My favourite ratio is price to sales. I like to think that for every dollar of my own, I should get at least a dollar of the consumer's.
During recessions the pickings are slim for this philosophy, mostly because the peeps aren't a buying. During periods of high inflation (like now, and yes I know that's unsupported) the pickings are also slim because stock prices are hyper-inflated. Long story short, I have some cash in my trading account that I can't find a suitable place to park. Usually in transitional markets the choices are plentiful. I don't believe that this market is in a transitional phase. And I do believe that is a direct result of Central Banks' irresponsible actions over the past few weeks... even years.
What happens when fiscal irresponsibility gets rewarded with bailouts? You get more fiscal irresponsibility.

But as our credit bubble undergoes an ugly unwinding, it's dawning on folks that central banks lie at the epicentre of the problem.

Andy Xie (Financial Times) writes: "The global credit bubble is bursting. This bubble is primarily leverage financing for owning risky assets. The people who were responsible for what happened played with other people's money, marketed arcane financial products with false promises of fat profits, but stuffed their own pockets with big bonuses. Neither these masters of the universe nor their greedy but naive investors deserve to be bailed out. They deserve what is coming to them.

"The central banks should focus on price stability, not financial market stability, and should provide liquidity only to contain the multiplier effect of the bubble bursting on the economy. Nor should central banks stimulate to avoid recession at any cost. Business cycles are not bad. Excesses must be followed with cleansing...

"Markets have been taking more risk than they should because they believe that central banks will come to their aid during times of crisis, like now. The penchant of Alan Greenspan, former U.S. Federal Reserve chairman, to flood the market with liquidity during financial instability is the genesis of this 'central bank put.' As long as this expectation remains, financial bubbles will occur again and again. Now is the time to act. Let the crooks go bankrupt. Central banks should bury the Greenspan 'put' for good."
Now to paraphrase Mr. Wheaton (sorry couldn't resist one last poke): one person's opinion does not an expert analysis make. So I'll give you this one too, also from the same article:
U.S. Comptroller General David Walker was quoted Tuesday (also in the Financial Times), as follows: "Drawing parallels with the end of the Roman empire, Mr. Walker warned there were 'striking similarities' between America's current situation and the factors that brought down Rome, including 'declining moral values and political civility at home, an overconfident and overextended military in foreign lands, and fiscal irresponsibility by the central government.'"
I'm not suggesting that the doomsday scenario is imminent, but is it not telling of a considerable problem when federal financial leaders split on economic policy so diversely? What is it going to take for the markets to start paying attention? Given how interconnected the RE and stock markets have become since the dawn of the ABCP debt-funded retirement mutual fund mess, something drastic needs to take place in the stock market for the drastic correction I'm looking for in the local real estate market.