In about 3 hours, if you haven't closed on your new home, well, you're literally sh&t out of luck if you can't afford the home you want without using a 35 year amortization and require government-backed mortgage insurance.
You snoozed, you lose-d.
It will soon be March 18th. All the usual pundits claimed that a sales-frenzy would be created by the mortgage rule changes and that spring would come early for the Victoria real estate market.
It didn't. Sales have been ho-hum, averaging about 20% less than this time last year. Sure, we're seeing higher sales volume than in 2009, only marginally so, but that's nothing to be happy about considering 2011 is shaping quickly into the second-lowest sales volume start to a year in the past 10.
If you're left wondering why, you're not alone. Unemployment isn't up. Nor are interest rates. There's no economic calamity. No recession. No impending doom. No riots. No protests. No instability. What could possibly be the issue keeping the Hot Asian Money from buying in Glanford? Why aren't the rich Albertan Oilmen snapping up Bayview and Hudson condos for weekend playgrounds? I thought it was en-vogue for gangsters to buy their goo-mah a Bear Mountain condo so that when they came to golf they never dined alone? And everyone, and by everyone I mean the world's elite wealth who really know what's what and who's up when the rest of us look down, wants to own a prestigious Beach Drive address so they can park their mega yacht in the sheltered bays and snap iPhone shots to tweet out to their legions of adoring fans, don't they?
Oh, wait. It's locals. I forgot. Real estate is always local. It's location, location, location. I guess the locals are exhausted. Or priced out forever. Or maybe they stopped caring. Whatever, they sure have stopped buying. I blame this guy. You should too: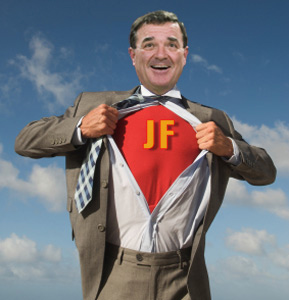 Super Jim made it harder for you to buy a home today. It's too little too late, but damn it Jim, it's still St. Patrick's Day and I'd still like to buy you a beer for the effort. In that short 20 minutes I'll have your ear, I'll convince you to fire them all at the CMHC and privatize that crown corporation to get their gambling off our collective books.